To be perfectly honest, we rarely give our children Christmas presents. They get enough from their grandparents, and we purchase /make things for them through out all the year, that it doesn't make too much sense for us to add to the pile o' presents.
I changed things a bit this year. Maacah bought me 5 Sew Sweetness bag patterns by Sara Lawson for my birthday and one of them is the Park West Bag (if you haven't checked out her patterns yet, you really should! They are very well written, easy to understand, and plenty of pictures.). I really liked this pattern and was thinking of a reason to make it first. (the other patterns that I have are the Dot Dot Dash Bag, the Aragon Bag, the Camp Stitchalot Bag, and the Crimson & Clover Train Cases. I have since made the large train case and I'm planning on making a few Camp Stitchalot bags for a Farmers Wife group starting soon.)
We like to go swimming at an aquatic center near by and we are always in need of enough bags to bring peoples clothes in. Then it hit me: there's my excuse reason to make some bags! They are large enough to hold a few days worth of clothes, so they're perfect! Except… the bags are fairly "feminine" in their appearance and that wouldn't really be a selling point for my boys. Hmmmm…. in comes the pattern The Cargo Duffle Bag from Noodlehead. It's roomy, can be made "boyish", and it's FREE. Score!
So all of the children received their own bags this Christmas (except for Samuel), made according to their own likes and preferences. I had a lot of fun making them!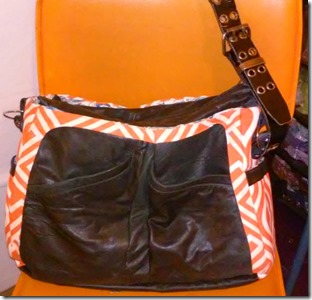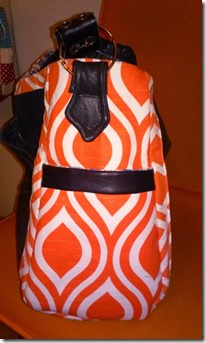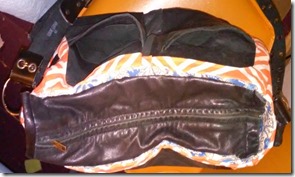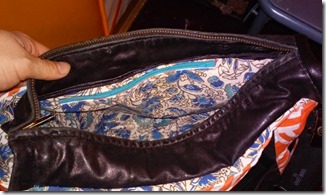 Maacah's bag is made from an old leather jacket and canvas. I used the pockets from the jacket for the front. The strap is a leather belt that was thrifted from Goodwill. The large ring that is connecting the strap to the bag is actually a shower curtain ring. Hey, I use what I can find (and afford)! I kept the zipper placket intact to use as the main zipper in the bag. Even though the lining doesn't match the bag at all, the reason I used it is because it's her favorite print in my stash. This one was a hit with her!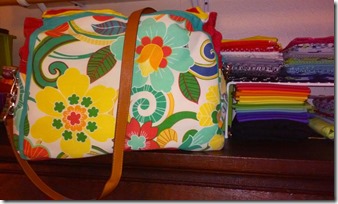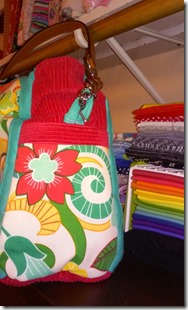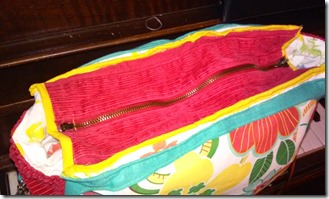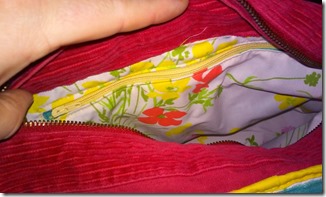 Grace's bag is made from canvas and red corduroy, which was a light weight jacket. As in the bag above, I kept the zipper intact and her strap is a leather belt, as well. It was a bit long, so I made loops at the sides to attach it to (the belt has clasps at each end, so you can loop it back to itself and make it shorter). This time the lining not only matches Grace's taste, but also the exterior of the bag. Her smile was quite large when she opened this!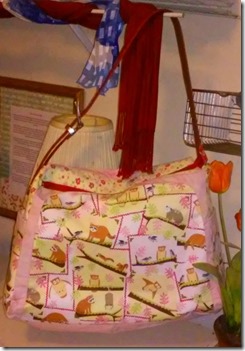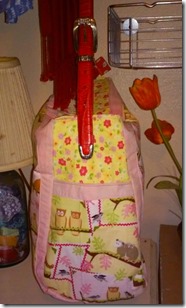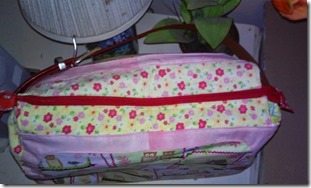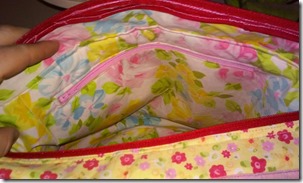 For Damaris, the choice of colors and fabric were easy. I used all quilting cotton (except for the yellow and red daisy looking one. That's a sheet.) and the pink accent is actually white fabric dyed with beet juice, which explains why the variance in color. The handle is yet another leather belt (they are seriously easy and fast to use. Not to mention cheap!) and I cut it so that it can still be adjustable. She says her favorite part about her bag are the raccoons on the front. Cute!
I will be making one more (at least!) Park West Bag for my mother and perhaps with that bag, I'll actually follow all of the directions.
Maybe.
Now on to the boys. Since there isn't as much variance between these 4 bags as there were with the previous 3, I'll kind-a lump these together. All of them are per the directions (for the most part) using the quilt-as-you-go method on upholstery fabric , which is used for the lining (I had remnant pieces of various prints of upholstery fabric. I wasn't going to use the recommended interfacing and I wanted the bags to be nice a sturdy. )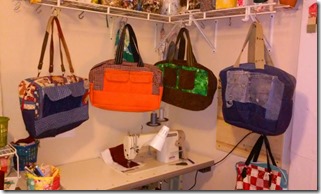 I used old jeans for Isaac's bag, repurposing the pockets on both sides of the bag, and an old canvas belt for the straps.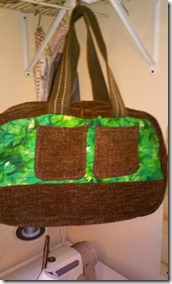 I used another light weight corduroy jacket and green quilting cotton for Malachi's bag. As before, I kept the zipper from the jacket intact for the zipper piece and I reused the pockets instead of following the pattern. His handle are also an old canvas belt.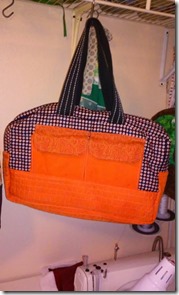 For Nathaniel's bag, I actually followed the pattern and made my own pockets. His favorite color is orange and I had the perfect navy orange dot in my stash for him. You can probably guess what the handles are, by now.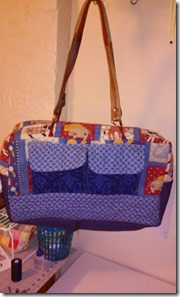 And for Caleb's bag, I used a cute farm print as the main piece and puppy paws on blue for the other pieces. His handles are salvaged from an old purse. I love repurposing things!!
All of the bags have been a hit! Yay!!
I am linking up with Crazy Mom Quilts.