I rarely buy quilt patterns. Why should I, when there is so much that's free out there? And I sure do love free! Yet there are times when even I make and exception. Enter, the "Swoon".
I'm not sure what it is about this pattern, but I really, really like it. I bought it with the expectation that I would make a quilt for my mother and for our bed. I happened to have birthday money at the time, so I bought half of the fabric that I would need for each quilt (then supplemented from my own stash).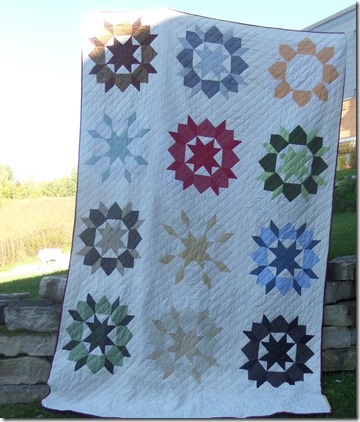 I cut all the blocks out at once, storing them in plastic baggies so I wouldn't get things lost and confused, and proceeded to make 2 blocks at a time: 1 for me, 1 for her, 1 for me, 1 for her, etc.
Then I looked at the calendar and realized that I didn't have enough time to work on both quilts and still get my mother's quilt all done by the time she came to visit. So I put ours aside and worked on my mother's. I finished that one just in time, and she loved it!
And….. then it sat. And sat. And sat some more. I s.l.o.w.l.y. worked on it, doing a bit here, and a bit there. I'm not sure why I lost interest in it, for I still really like the pattern. It just seemed like other stuff got in the way and …. well, whatever. At some point I bit the bullet, sashed all of the blocks, laid them out on my bed (to get a good idea of where to place what), and sewed them together. Good job! I told myself, Now on to the basting!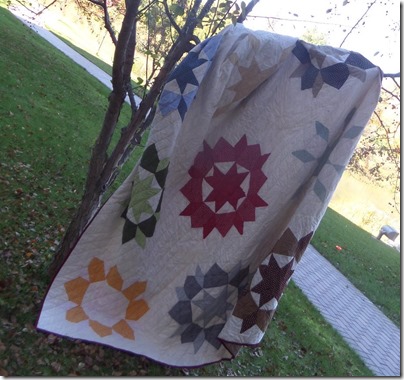 Yeah. I hate basting. And this is a king sized quilt (I added 3 more blocks then the original patterns calls for). Yet I made myself drag it take it to a place where I had the room to do the deed (not at my house) and I spray basted it. Which was fine, since I could reach the middle of the tables to pin it anyways. Yet, I didn't count on one thing: not quilting it right away. I'm not sure how long it sat on my shelf, waiting to be quilted, but it was long enough that the spray had become useless and I ended up pinning some of it anyway.
At the beginning of September (yes, this September), I told myself that it would be all quilted by the end of the month. No excuses!! So I got it under the machine and started quilting it. I had decided long ago to quilt it in a cross hatch pattern, so at least I had no questions about what I was going to do. It was at this point that my machine started skipping stitches and doing other stupid stuff. But I persevered, figured out what was going on with the machine, and finally finished the cross hatch in one direction.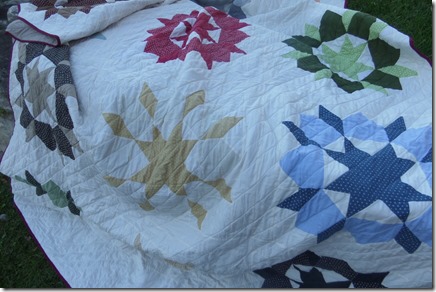 It was at this point that I said, "Looks good! I'm done!", to which my husband replied, "Are you sure you're doing to be happy not doing what you've envisioned?" I told him that if it really bothered my, I could always quilt going the other way, even after it's bound. The quilting that was already done was enough to stabilized it, so the other direction was only for aesthetic reasons.
Plus I really needed to be done!
So, by the end of September, it was not only quilted, but bound and on our bed! Yay!!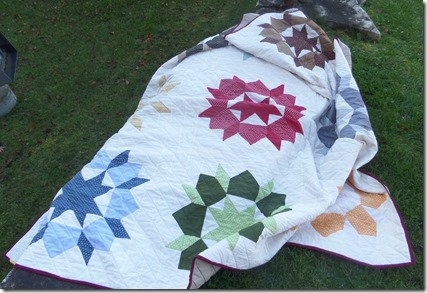 2 1/5 YEARS. That's what this quilt took to be made. But it's done. It's done!!
Linking up with Fabric Tuesday at Quilt Story.