Oh the weather outside is frightful….
It's just mid November and would you believe that we already have foot of snow? And we are getting into the single digits at night? We often have snow by Thanksgiving, but it's not that common to have this much snow 2 weeks before hand! It's a good thing this baby is due come the end of March/early April, and we may be purchasing a new house at that point as well, for it will (should?) keep my mind of the probably-almost-guaranteed-long-Winter that is before us. Not too mention the rest of life that always keeps me busy….
These past 2 weeks have been good ones. My energy levels are s.l.o.w.l.y. rising, which obviously is a help. We have completed all of our school each day (most of you don't get the significance of that statement!), I feel like I'm getting a good handle on the house cleaning, and I'm all caught up on the laundry. In fact, today (Sunday) there actually wasn't enough laundry to warrant a full load. That rarely happens! (Actually, if I combined everyone's clothes, there would have been. But I don't wash the girls clothes with the boys clothes with our clothes. I'm not sure why, I just don't.) I realize that these things don't sound all that worthy-to-talk-about information, but to a mama of many who has been sick and not feeling well for the last few months, these things are huge!
My apologies for sounding so crazy with my last pregnancy post. I'm usually not so flighty, and perhaps I wasn't, but it was something I wanted to get off my chest and admit. I really don't think I'm having twins and all of this stuff is most likely due to my age and this is my 10th pregnancy ( my 9th one past 6 weeks, for I miscarried our very first child). We will find out for sure on the 28th (my birthday!) with the ultra sound. I'll be 22 weeks by that time, which they say is just on the threshold of being to far along. I was supposed to have it this Wednesday, November 19, but the time and day just wasn't going to work, so I moved it to the next available day. My mother's going to watch the children so Adam and I can go together for a bit of a date. He hasn't been to an ultrasound since I was pregnant with Isaac (2004), so it will be nice for him to come along. We'll get to see together whether his assurance that we are having a girl is correct and if the other predictions of me having twins is correct, as well. Either way, getting to see our baby is the best birthday gift ever!
There is certainly no hiding the fact that I'm pregnant now. Not that I was attempting to, it's just nice to finally be in the stage where there's not guess work involved.

Even my young children are noticing that "Mommy, you're tummy is getting big".
Yes, yes it is. I suppose it comes with the territory.

The baby car seat that we bought for Samuel is less than 2 years old, so it's just fine to use. The only thing "wrong" with it was the cover was grey and lime….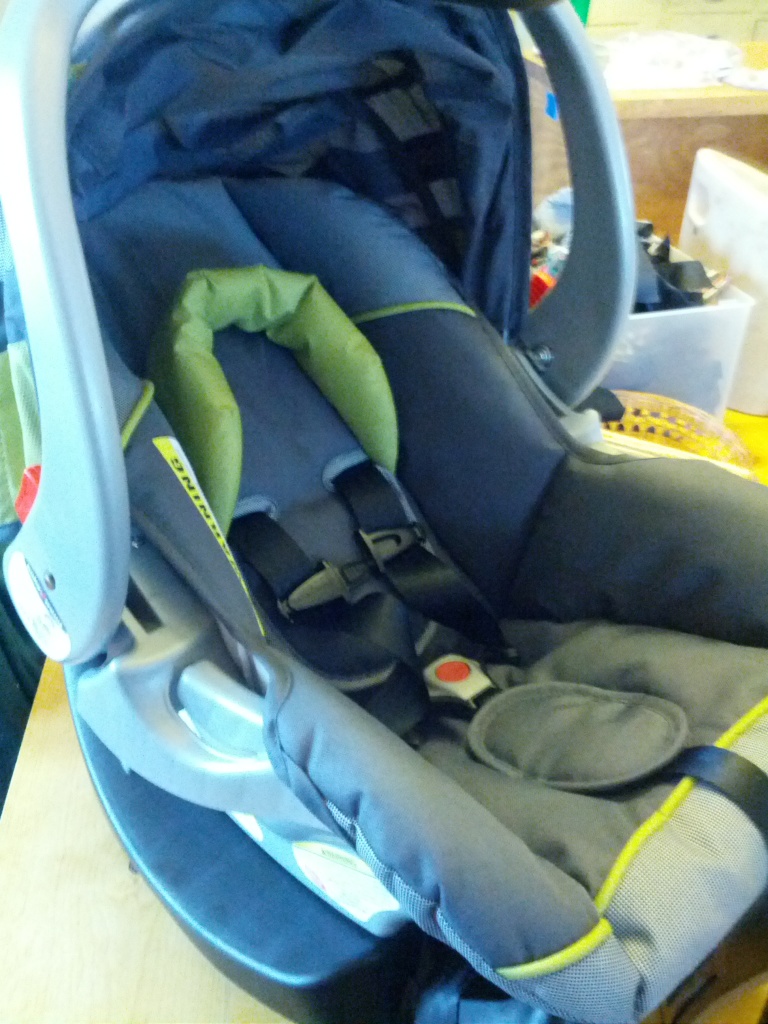 not really girly colors.So I used the original cover and canopy to use as a pattern (so we can use it again for another boy) and made another cover.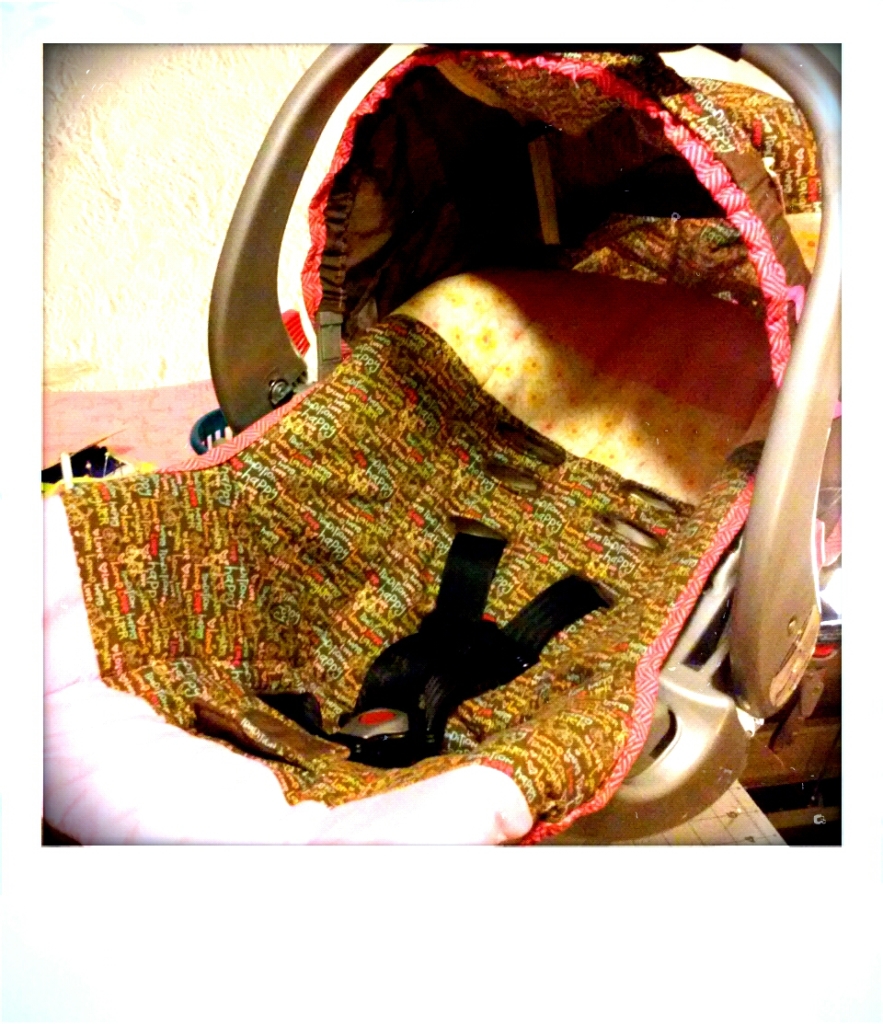 I'm really pleased with how it turned out!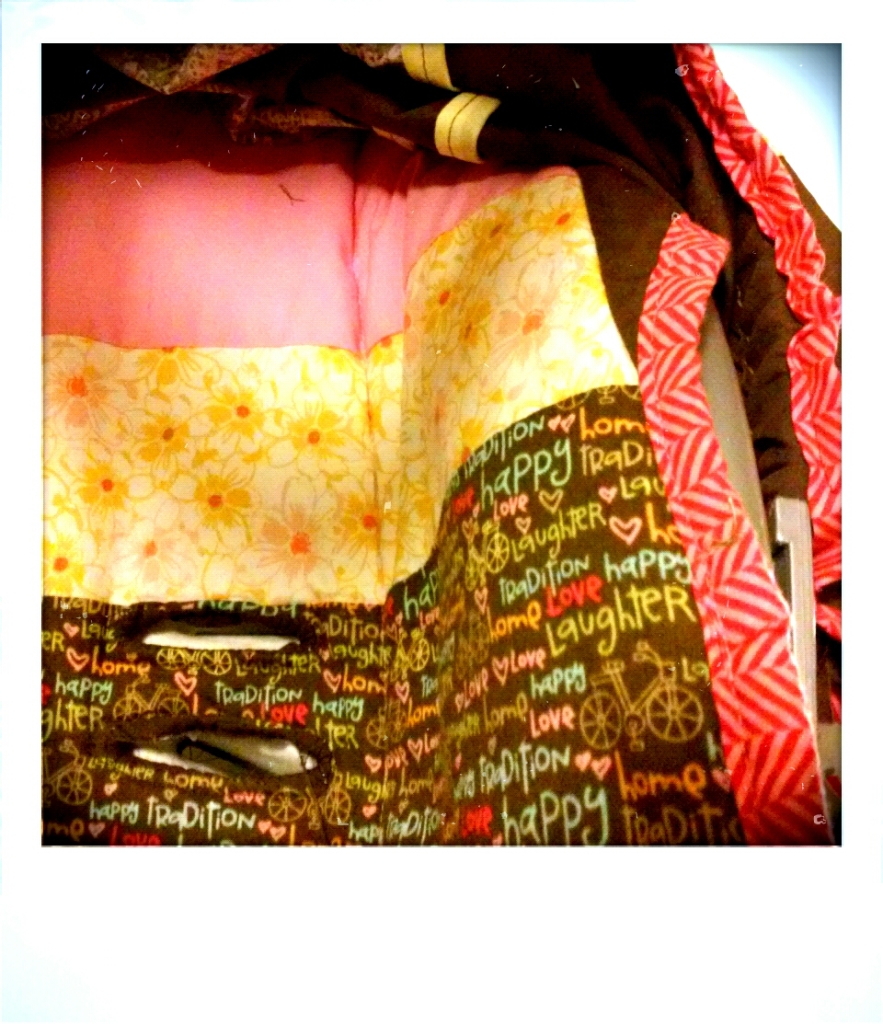 Esp. the canopy. The sides should really be wider then I made them and keeps the canopy from folding out as far as the original one does. But I think it makes it look like an English buggy canopy, so it was a very happy accident!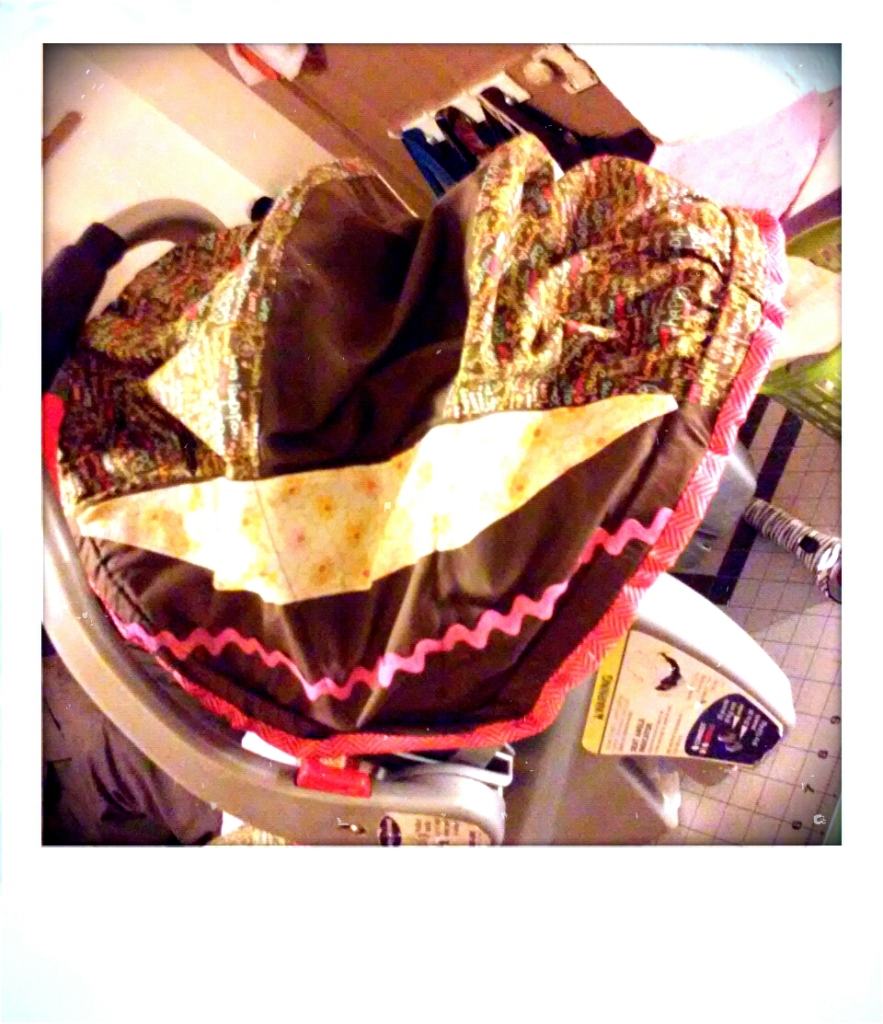 I have several other things on my "to make for baby" list, things like crib and bassinet sheets, baby gowns,  bibs, a hooded towel, and other things I can't quite remember now, but I know they're on my list. I'm planning on taking the month of December and do (almost) just baby sewing.
I'm looking forward to it!
I'm linking up with Crazy Mom Quilts for Finish It Up Friday!