Yay! I got it finished today! My goal this week was to get it done before we go to Minneapolis for Maacah's birthday trip and to celebrate our anniversary. It feels great to cross it off my list!
Here I am quilting it. As you can see, my machine is a regular home sewing machine. It has a 5 3/4" harp (the space that is to the right of the needle), but it works fine. You can see a bit of the snow we got today!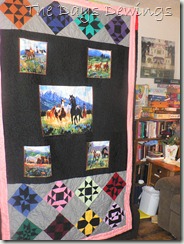 Maacah loves horses and bright colors, so when I found this horse panel on e-bay, I went for it!
The material strips for the pieced blocks were given to me by my MIL for my birthday (the same as with Grace's). So I've had them around for awhile. I like how the solid pairs with the black.
I chose the gray since there are so many different colors in the quilt already, I wanted the blocks to shine. The peach/coral border is a southwest print that Maacah has always liked.
I haven't. I am happy to give it a well loved home.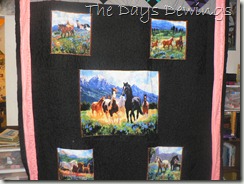 The panels look like they are a painting. Simply gorgeous!
"Maacah's quilt and horses"                                 "I

u"
I used  charcoal thread from Connecting Threads because I wanted the stitching to be seen, but not obviously so, on both the black and gray. I loosely stippled the black and then quilted a traced design on the gray. It was my first time doing that.
And the back. This sea creature material was given to me a few years ago and Maacah has coveted it the whole time! I thought it would be a great way to get it out of my stash idea to use it for her quilt. The multicolored top was done because the back was that much shorter than the top. Maacah really likes the look, so that works. And the really great news? This quilt was made using 90% scraps/fabric already in my possession (some for far too long!)! Yay!!
I cut the back larger to use that as the binding, just wrapping it around to the front. I will never do that again. Never! Never! Never! Ugh! It gave me more headaches….!
I think that smile says it all!!!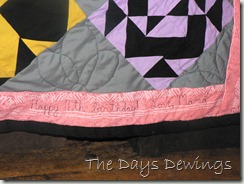 Linked up to Festival of Scrappiness with Stitched in Color and Finish it up Friday with Crazy Mom Quilts.