So. Ellison Lane Quilts is hosting a Modern Mini Quilt contest and I'm linking up to it! Love that last minute rush! Actually, I've had this mini the works for awhile, but because of the many different directions life has taken us this last month, it was put aside until today. (There are some FABULOUS quilts in this contest! You really should head on over there and check them out. After your done here, of course. I am also linking up to Crazy Mom Quilts and Confessions of a Fabric Addict.
I have had the idea of making some wall quilts, some mug rugs perhaps, and maybe a baby quilt, and approach the owners of 2 small shops we have here in town to see if they would be interested in "selling my wares". I'm not totally convinced my ability is good enough to actually sell something ( or, more rather, that someone will want to spend real money for them). But I'm at least still willing to make some things. At the very least, it makes for a good excuse, right?
One of the shops that sells not-needed-but-ubber-cool things is attached to a coffee shop. With that in mind, I came up with this idea: a tea set, on a table, of English Tea ( it's counter part being the all American cup o' Joe, but he's still in the works).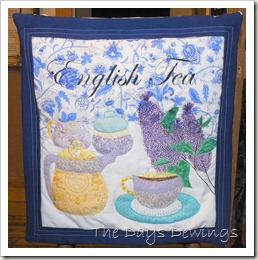 This mini measures 17 x 18 1/2 "
I first found various images of tea pots, tea cups, and tea sets that was at the angle I wanted. Then, with the help of my handsome assistant husband, each piece was enlarged to the correct proportion, printed out, cut out, and taped to a newspaper the app. size of the desired quilt (very scientific, I know). Once I was satisfied with the layout, I got out my scraps and went to town!
I knew I wanted a yellow and purple color combo, so I set to finding those prints. I cut out the pieces of the tea set and traced them into fusible interfacing. I had all the fabric I wanted and was so excited about how they were playing off each other. I obviously was a bit too excited to pay attention to which side of the fabric I was ironing the interfacing to…. Ah. You guessed it. The wrong side. Ugh.
Once all that was figured out, I fiddled with the back drop of the mini. I wanted a table in white with a background. This was my first attempt at curves and I'm pleased with how it came out. Esp. since I just eye-balled it.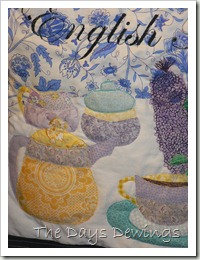 I love lilac and I have always thought that under a lilac tree would make a beautiful spot for a tea party. I wanted lilacs to be apart of this mini, to give the illusion of spring time, with all it's wonderful scents. I am not a hand-quilter, so FMQ (free motion quilting) was the only way to get this done. I found a tutorial on how to draw lilacs and followed that to "draw" my lilacs with thread. I am quite please with how they turned out! Once done, I wanted more color, for I had FMQ them onto the quilt itself, without any colored fabric. So I followed (loosely) the idea of Crayon Quilting and colored my flowers! I heated up the surface of the flowers with the iron, then colored over the material with the crayon. The fabric was hot enough to melt the crayon.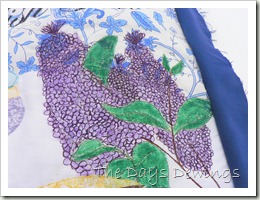 The next step was placing the tea set in the arrangement most pleasing to me, ironing them on, then raw edge applique them. (Raw edge applique is just what it sounds like: applique your piece (s) to your base fabric with the edges raw or slightly fraying). I attempted to give some depth to each piece and "shade" certain places with the thread. I'm not sure if I succeeded or not, since I'm not really an artist.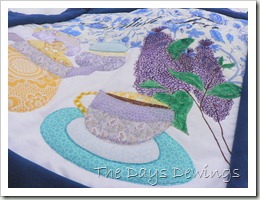 I wanted a very elegant, scroll-like font for the title of this wall mini. The only way I could think of doing that was to print out the size and font of the words, pin the paper to the top, and to sew over it. I guess it's kind-of like paper piecing…..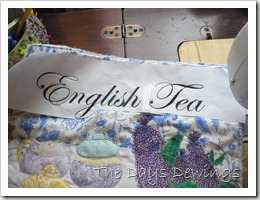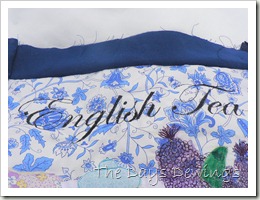 I didn't want the border, nor the quilting to distract from the tea party, so I kept it simple.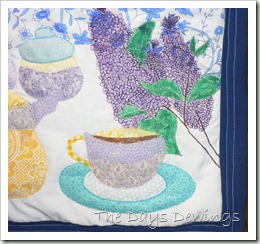 When I was quilting the inside of the mini, I didn't want the batting to get caught in the feed dogs (which I've had happen before), so I quilted a piece of white cotton on the back. The look of the quilting wasn't all that pretty once I was finished, and I decided to back it with a simple yellow flowered cotton print (aka a vintage sheet). You can see the triangles in the top corner for the ease of hanging it. I like them better than making a casing of sorts for the hanging rod.
And there you have it. This mini was challenging in many ways and I have tried several different techniques that are new to me. I enjoyed making this very much!
I don't know if it will sell. But if it doesn't, I can at least give it to my mother.
Linking up to Festival of Scrappiness at Stitched in Color.