That's what my sewing machine has been doing this week. I have busted out a ton of work on that little ol' thing!
Wanna see?
First up: dresses. It was a bit different switching to garment making after so many blocks and quilts. But, since I've made soooo many dresses, it was like riding a bike and I soon found my groove. Both Maacah and Grace received $$ for their birthdays towards the purchase of new material. When we were ordering all of it, I remembered we are attending a wedding (as guests!! Woohoo!!) on the 24th, thinking that is a good excuse reason to get myself and Damaris some new material too.
I made it my goal this week to get all of their dresses done…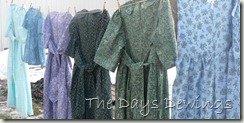 and I made it!!! (That blue jumper has been cut out and been patiently waiting to made  for Maacah since October. Never mind that it took me a little over an hour to complete it. My procrastination was ridiculous, to say the least! Oy!) As you can see, I change the pattern a bit by adding a vest with ties. The jumper is the same pattern, only without sleeves, collar and lower neckline. It's nice now that I can use the same pattern (but different sizes) for both the older girls!
  I love inverted pleats! This is one of Grace's.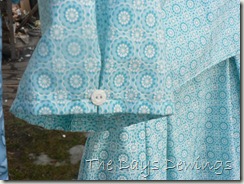 A unique tuck on Maacah's sleeve. I am adoring this color!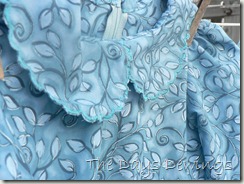 A little scallop on Damaris's collar (it's also on her sleeves).
When making dresses for all of us, I always do mine last. It makes me feel quite selfish if I made mine first. So mine has yet to be completed. But I have all of next week, so we're good.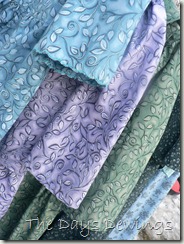 They're matching, of course!
Dress making wasn't the only thing I was up to. Oh no, not me!

HA!
I've started on my Bottled Rainbows quilt again. It's a quilt-as-you-go kind of quilt, so the batting is already on. I think it was last summer that I sewed all the colored borders onto the white rectangles in the middle.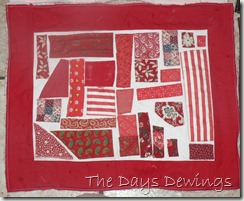 The red was all done, so that didn't need to be worked on this week.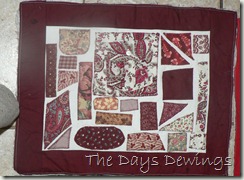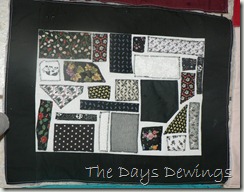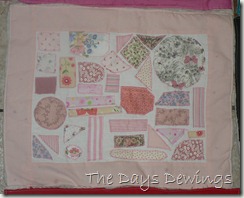 But the maroon, black and light pink did.
The teal and hot pink are pinned, all ready to be sew on.
I'm really having fun cutting up my scraps and laying them out! I'm actually glad that I've waited this long to work on them, for now I have far more scraps to work from!
Last, but not least, I've made some New York Beauty blocks.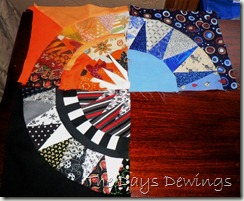 Now, I'm quite new to paper piecing (which is exactly what it sounds like: you piece the blocks using paper), and I've had my eye on these blocks for some time. I've just never quite knew how to put them together. For 10 weeks, there is a quilt-along made up of several people who are teaching all who want to know, how to make each of the blocks. This is free ('cause that's my favorite word!) and any body cane make them.
I've decided to go "scrapy" for 2 reasons: 1. I have many scraps and need to use them up. And 2. it makes my husband happy when I don't buy more fabric. (But I'm going to be buying more soon for a friends wedding quilt. Shhh!)
The design will be a snake-y thing (like this one) in a rainbow pattern. But it might end up looking stupid, so we'll see.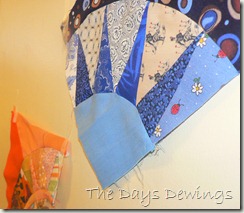 Block 0, done in blue.
Block 5, orange and black. I'm getting out of my comfort zone going so scrappy. I like more order and reason to blocks. But I'm liking how these are looking so far. Esp. the orange one, how it goes from light to dark!
Of course, this doesn't count the 16 or so loads of laundry that's been done, or the meals that have been cooked, or the school that has been taught, or the yard that's been cleaned up, or the diapers that have been changed, or the blogs I've read while nursing, or …
See? I told you I've been busy! I wonder what I'll get done next week?….
I'm linking up with Crazy Mom Quilts and Confessions of a Fabric Addict.