I am entering this quilt into the Blooger's  quilt festival over at Amy's Creative Side.
I love my mother. She's very special to me and so I wanted to make her a quilt. My husband thinks I'm insane for thinking everybody wants or needs a quilt. Of course, I know they don't, but it's a way of showing a person that I love and care about them. A quilt, however small, is not a fast, always-easy type of gift. It takes thought of the pattern, material, colors, etc. And so, I wanted to invest all that towards something for my Mom.
You see, we are very close in relationship, but very far away in reality. I live in northern Wisconsin and she lives in central Idaho. That's 32 hours, 2,100 miles apart. We talk on the phone regularly (and she's coming here for the whole month of June! Yippee!!!!

), but we still miss one another. So I thought of a making her something that she can snuggle up with and be surrounded by love each time she wraps herself in it.
I had this idea in my head for some time before I found the perfect pattern: Swoon, by Camille Roskelley. I loved it! I thought is was a perfect fit for her tastes. Now I just needed the perfect fabric. I happened across a fabulous sale at the Intrepid Thread for The Quilted Fish's line "Delighted"; the entire collection in fat quarters! All the colors in this line fits her wonderfully! Score!!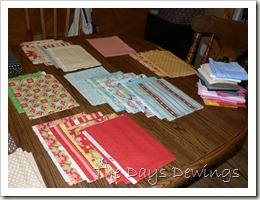 You see that stack of fabric there? That is what I pulled from my own stash for each block. The pattern uses 18 fat quarters, 2 for each block. For whatever reason, I had twice as many fat quarters as I needed. I figured this out after I had cut 3 or 4 of the block pieces out (which left me with 6 fat quarters from this beautiful line, all for myself!!! Shhh, don't tell my Mom!

)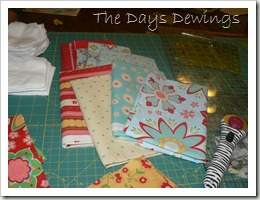 I was originally going to do a quilt-as-you-go method with this quilt, so I put the sashing all around each block. The first 2 blocks took 2 months to make. Which I was okay with,….
Mom's is on the left in each picture and mine is on the right (which is a WIP).
until plans were made for her to be here this summer. It was then I realized that I needed to get hopping on this thing if I wanted it to be done in time! So I decided to do them all at once.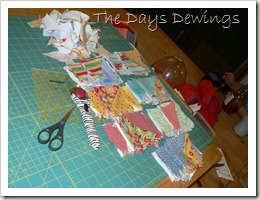 Even though I wasn't able to work on it all the time, it took me about a week or so to get the blocks done. I changed my mind half way through against the quilt-as-you-go idea.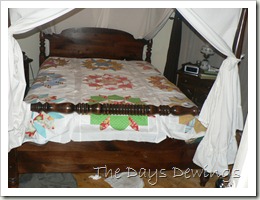 This is just lade out on my bed, not sew together. I wanted to see how wide I needed to make the borders. I decided that the width of the quilt was fine, but the length needed to be longer. So I did an improve thing with all the triangles I had left over from the cutting of the pieces and some of the scraps from the "Delighted" fabric. This isn't my  usual style, but I really like it! For the back, I decided to make a giant swoon, pulling fabrics from my stash. Around the giant swoon, I used 2 vintage sheets from my stash as well.
As you can see, I did play some with this block. On the left is the Papa Swoon, at 48"  square. In the middle is Mama Swoon, in the normal 24" square. And on the right is Baby Swoon, in a petite 12" square.
I don't use basting spray and I didn't have a large enough table to spread this beast out on (nor a clean enough floor!), so I put up 3 folding table in the front yard, in the warm sunshine, and basted it with 350 pins!! Whew!
As a side note, for over half of this quilt, I used the wrong fabric marker. It was disappearing ink! And yes, it disappeared on me. Which meant that I was free-styling over 75% of this beast! Ugh!
When all was ready to quilt it, I re-organized my dining room a bit so that my sewing table would be right up to one of my dining room tables, so the weight of the quilt wouldn't be dragging on the floor (yes, I said "one of". We have 9 people in our family, so 2 tables are needed. ). It was like this for about 3 days, which wasn't as bad as I was expecting. And yes, I took the plunge and quilting this extra large queen size quilt with my domestic Brother Q-9000. I was quite nervous about it, but I had quilted my daughters'  twin quilts, so I thought why not? It has a harp space (from the needle to the right) of 5.4". You don't need a fancy machine or anything expensive like that. So don't be afraid to quilt your quilts on your machine! It can be done with patience and time. I could have sent this out and the quilting would have be better I'm sure, but I wanted this whole things to be from me, from start to finish. And I quilted it in red thread on white. Oh yes I did and I'm so happy with it!!!
I waited for a few weeks to get pictures of it, for I wanted it to be nice and sunny. I went to the park with the children and had a good time taking pictures! What do you think? Do you think she'll like it? (Warning: as you'll see, I had a lot of fun taking pictures! And these aren't all of them, either.

)
See my "oopps" block?

I kept it in to, well… keep me humble. And I kind-of like it.
Even though she didn't receive it for Mother's Day, it was done by then! For the binding, I used a solid pink, a wide pink/white stripe, and a narrow pink/white stripe. She loves pink and I love stripes in the binding! (Please never mind my not-so-stellar corners. I put the binding on with the machine, because I dislike sewing it on by hand. ). She is coming here in July, so I'll be giving it to her then. For me, , watching the recipients expression is half the fun! I'm planning on making some matching pillowcases to go along with it.
Again, I'm linking up with the fabulous Amy at Amy's Creative Side for the Quilt Festival: Spring 2012! Go check out all the other 400+ entries! Wow! There are so many talented people in this festival, it's unbelievable! Grab your beverage of choice and go surfing, my friend!