I am entering this quilt into the fabulous Bloggers Quilt Festival, over at Amy's Creative Side. Seriously, this is a wonderful place to find beautiful quilts, all in one place! I have entered this quilt into the category "Original Design" and the voting starts May 23. Be sure to visit all the ones you can an vote for your favorite. There are some sweet prizes up for grabs!!
Last fall, a friend of mine contacted me about making a quilt for her son and her daughter (which are also commissioned quilts). Each of them picked out the theme, with Mom adding her 2 cents, and I came up with the design. It took me quite a bit longer than I had first expected them to.
For her daughter, she wanted a hunting owl, a sleeping animal, orange and yellow stars in the sky, leaves blowing in the wind, and a boat in a distant lake. Here is the rough draft I cam up with :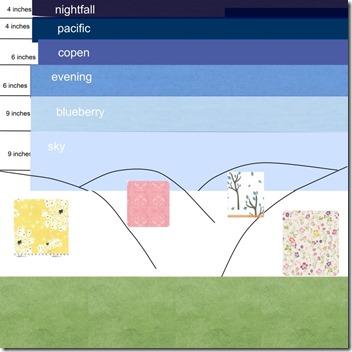 Owls hunt in the evening/night, but instead of having a boring sky of just one color, I decided to have a gradient of blue to give the illusion of an evening sky. To give more depth and interest to the quilt, I wanted to add hills to the landscape. They had gentle slopes, so I was sure they wouldn't be difficult to piece. Hehehe, famous last words, right?
I wanted this quilt to be the most durable it could be and I didn't feel that applique would offer that. The only other option was paper piecing the critters. Trouble was, there wasn't much in the way of patterns for the critters I wanted. So I turned to 2 sources: Quilt Assistant (a free downloadable program) and my computer-savvy husband. With the Quilt Assistant program, you can open any picture of your choice, make the needed sections for paper piecing, then print them out (that is a bit simplified, but once you get the hang of it, it's really easy). I was a bit nervous, as you might imagine, never drafting my own pattern before and it was quite a learning curve! By the 4th pattern or so, I could look at a picture and know the best way to segment it and label it. (Some of these pieces, however, were images from Pinterest by other people and they were paper pieced already. So I just had to follow the seams to make my lines. Try as I may, I couldn't find the original source for these patterns. If anyone knows of those sources, please tell me! I want to give credit where credit is due!!)
Here is the moon that we found (this is the 2nd moon. The first just did not pass any kind of test what-so-ever!).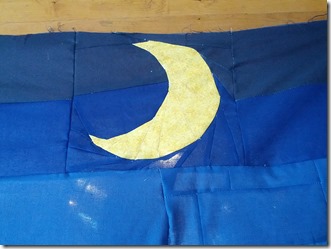 The stars are blocks, pieced the traditional way. I found the tutorial here.
The owl was interesting to piece. This was one of the first pattern I printed out and….well, I didn't know what I was doing! I figured it out, though, and most likely did things very unconventionally. His eyes are 2 little black buttons.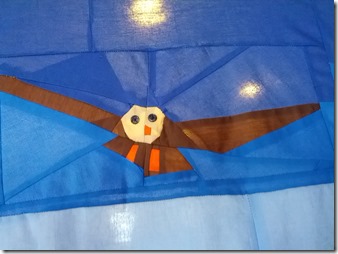 The deer was the 2nd critter to make an appearance. I'm happy with how she turned out. Her "skin" is from a suede skirt, so it's nice and soft.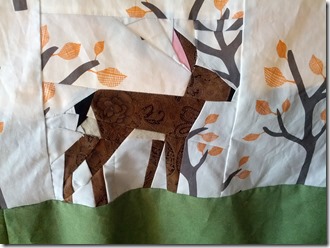 Next up, we have our adorable sleeping fox. This one was fairly easy to do, since it had big pieces to it. The hardest part was coming up good looking oranges from my stash for his fur (orange is a color sorely lacking on my shelves). The green looks quite gray in this picture, not sure why. The green with our little deer turned out just fine.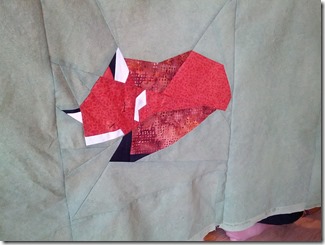 Of course, our owl needs to have something to hunt. This cute little mouse fills that role nicely! I found a large wiggly eye button in my stash for her eye.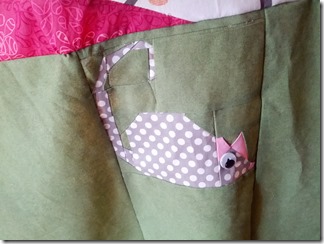 The sun is one of the patterns from The New York Beauty block-along, done with Sarah from Sew Sweetness. I believe my sun came from The Littlest Thistle. I wanted this to be a setting sun, so only half of the block was made.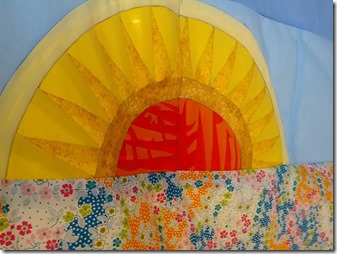 For the boat, I decided on a little house boat, complete with a little girl peeking out of the window. I found this pattern here.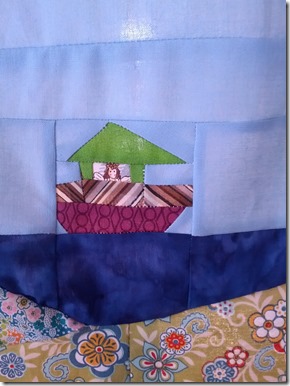 After the top was complete, but before it was quilted, my friend contacted me and told me that she wanted more of a burgundy/merlot color instead of the pink. Definitely not what any quilter wants to hear! I was so amazed at how difficult it was to find a burgundy/merlot colored fabrics that's not a solid! Here is what it looked before the change.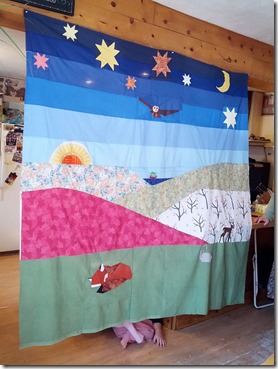 While looking around for a good burgundy/merlot print, I wasn't liking how the colors were going to mesh. The trees and green flowers (seen best with the boat photo above) would be fine, but I wasn't liking how the multi print (seen best in the sun photo above) would look with such a dark color. I decided to change both the pink and the multi print fabrics at the same time.
I was apprehensive about how the burgundy/merlot print would look, but once it was here, I loved it! As you can see, I put the darker burgundy/merlot print in the back, for I was concerned that such a dark color would overwhelm the quilt. I bought a sweet warm yellow print to replace the multi print. Here is the after picture.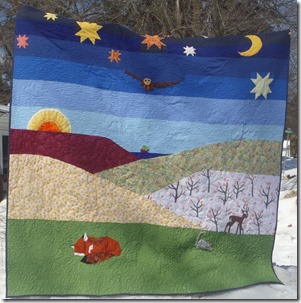 Now for the quilting.
I did it all on my machine, a Sewstrong 8700, and had So. Much. Fun!
In the green, I did a simple meander with echo-type flowers.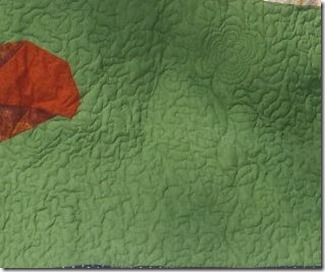 In the hills, I quilted dragon flies and daisies.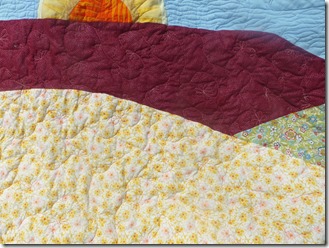 I quilted simple peaked waves for the water. And in the sky, I quilted around each star, quilted more stars, quilted the wind, and added in fluffy clouds.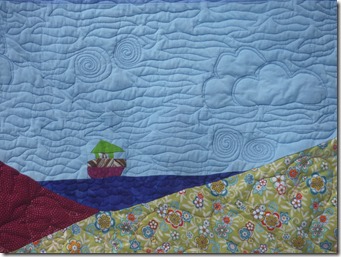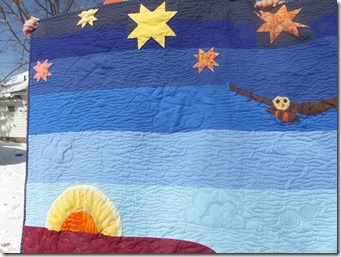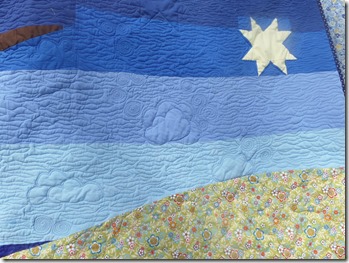 For the back, I wanted to create a more neutral palette and my friend wanted some leaves in fall colors. I appliqued them on in a wind-blown look.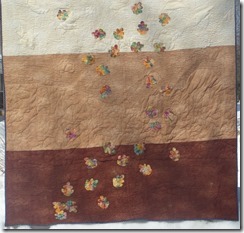 I am glad to report that the whole family loves what I did. I'm quite proud of it myself.

In fact, there were a few times through out the designing and piecing and quilting stage, that I thought to myself, "Perhaps I do have some skill after all." We are always far more critical of our own work, aren't we?
Quilt stats:
Size: 83" x 85"
Designed: by me
Quilted: by me
Quilt fabrics: (from top to bottom of sky): rich navy, Persian blue, patriot blue, blue, bluebird, sky from Connecting Threads; the hills are: Dreaming in Pearle in Merlot, Bed of Daisies in Golden, Whispering Trees in Poppy, (I can't remember what that green floral is); the water is a Batik Dreamscape Mystic from Connecting Threads; the green is Mirage Clover from Connecting Threads; the binding is Little Stars is Navy from Connecting Threads; and the back fabrics are a very soft flannels (from top to bottom) cream, fawn, and pioneer and the leaves are a Batik Aurora Heatwave all from Connecting Threads.
I'm linking up with Crazy Mom Quilts and Confessions of a Fabric Addict.