I am entering this quilt into the fabulous Bloggers Quilt Festival, over at Amy's Creative Side. Seriously, this is a wonderful place to find beautiful quilts, all in one place! I have entered this quilt into the category "Home Machine Quilted" and the voting starts May 23. Be sure to visit all the ones you can and vote for your favorite. There are some sweet prizes up for grabs!!
Last week, I showed you the quilt that I made for an adorable little girl. Now it's her big brother's turn.
When my friend contacted me about a quilt for her son, she asked for a sophisticated nautical theme, with his room having that decor. My first thought was to have both an under the sea view, as well as some sky, but not at a strait angle, for I thought that was boring.
Here is the rough draft I came up with. Not all creatures made the cut, though.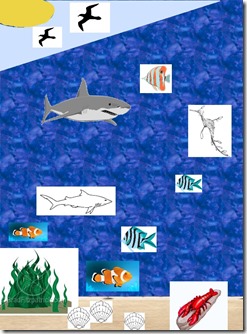 Like his sister's quilt, the creatures needed to be sturdy and I didn't feel that applique would hold up over time. So I opted to paper piece the sea creatures. I used the free program Quilt Assistant again and this time, I had a better understanding of what I was doing!
The first creature I did was the sea horse, which came from a paper pieced picture off of Pinterest (I tried to find the source of the pattern, but was unable to). The tail was… something else, but in the end it turned out fine.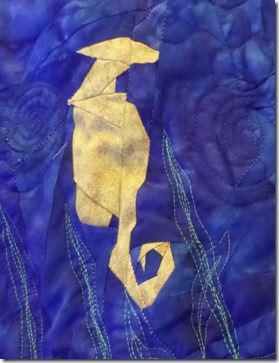 Next up, was the shark. This pattern was drafted from a clip art picture and went more smoothly. Once the quilt was half way quilted, I saw the fin not quite match up. I'm not sure how that escaped my attention….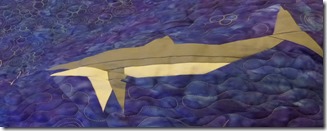 Then came the birds, for a sunny ocean sky must have seagulls! I positioned one to give the idea that it was diving for fish, but my husband said it looks like it's falling out of the sky, dead. What do you think?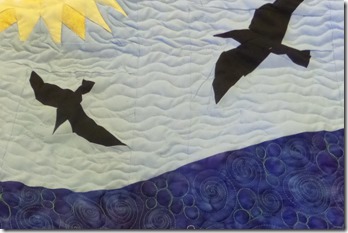 Nemo The clown fish were next, the pattern being drafted from a picture found on Google. I wanted to incorporate creatures from both the top and bottom of the sea, and what fun fish the clown fish are! (and yes, my children never called them "clown fish". It was always Nemo and his dad.) They are a much brighter orange than the picture shows. These fish were puzzles that were quite mind bending to figure out! The program usually prints them out grouped together, in the way that I number them. But with these guys, the program printed them out however it wanted, in 20 different, small pieces for each fish! I'm not going to admit how long I sat there and stared at all those pieces, trying to figure out which went where. Suffice to say, it was too long!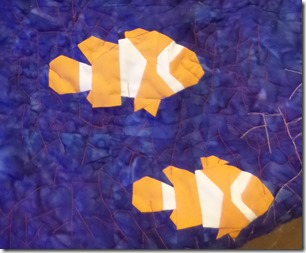 The jelly fish were fun and simple to do, as well. I was trying to decide between these or the large, plump looking ones, both being clip art pictures. I took a vote with my family, and these ones won. The picture doesn't show it, but the teal one has a darker teal swirl printed on it.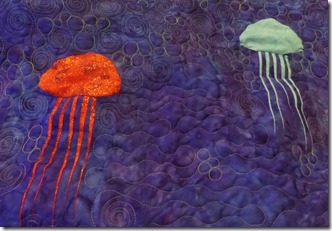 My favorite creature of the whole bunch is the sea turtle. We found this pattern via Pinterest, as well, found on Sewhooked ( the turtle pattern is found just under the "Animal" heading). I did him in a green and gold fabric that I had gotten from the Traveling Stash Box(es), which reminded me of a turtle's shell. I tried to keep the small arches going in the same direction, and even though it's not perfect, I am quite happy with it!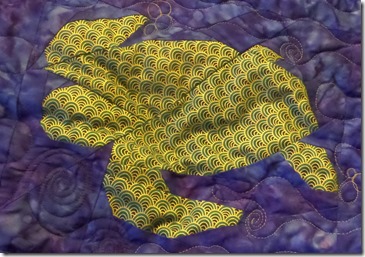 The sun was another New York Beauty block from Sew Sweetness's New York Beauty quilt-along. This one was presented by Lee of Freshly Pieced.
Last of the creatures was the sea dragon. Now, if you know what a sea dragon is, you know how incredible it looks! Those "leafy" appendages, the tiny face, the skinny body… so cool! However, God does a much better job at forming those little guys than I do and I just couldn't figure out how to paper piece it. Applique? No way!! I couldn't stand the thought of appliqueing on such small, tiny pieces. So I did the only thing I could think of: I embroidered it. While I don't enjoy hand work (I machine quilt and bind my quilts), I do enjoy embroidering. Some of you might remember my MIL's quilt that I made for her 2012 Christmas. That was my first dip into embroidery and I really enjoyed it. ( Am I the only one who see's a pattern here? Let see: I don't really know how to do something, but let's jump off into a large quilt anyway. Go big or go home, right? Yeah, that's me.)
I printed off a fairly simple picture of a sea dragon, traced it onto my fabric and got to work. It took me longer than I had thought, filling in all those areas, which lead me to leave out a few details I was planning on doing. But I think it turned out quite nicely. This was also the specific creature that my friend asked for, so it was a pleasure to do that for her. You can't tell by the picture, but his body is a yellow and his "leaves" are a yellowy-green.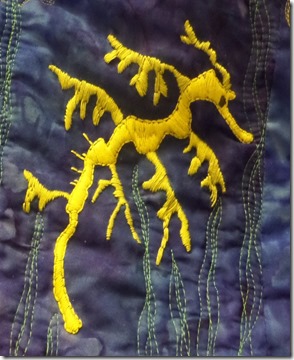 Once the quilt was together, I got the chance to play! I wanted to incorporate more creatures into the quilt, but not with paper pieceing. From the very beginning of this quilt, I wanted to quilt in some sea life and I designed this quilt to let me do that.
My sea dragon, sea horse, and clown fish all needed homes to keep them safe, so kelp and coral was first up. In the pictures and information I found online, the sea dragon is in one type of kelp, while the sea horse is in another. I ended that problem by quilting in both kinds.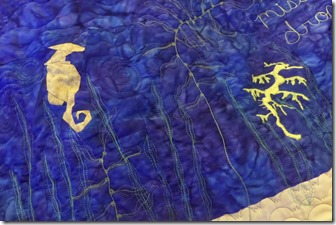 The clown fish lives in coral, so I chose a type that was a bit easier to quilt, but mostly easy for the viewer to understand what it is: fan coral.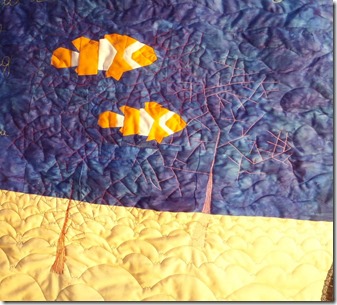 I love dolphins, and was quite happy to put two of those lovely creatures into this quilt!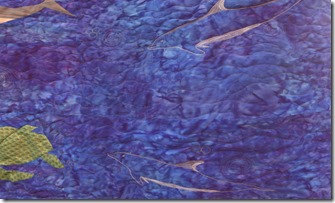 I thought a Manta Ray was another well know creature of the sea, so he went in on the other side of our playful dolphins. Unfortunatly, it was too late when I realized that his under side should be a lighter color, not his top side. * sigh *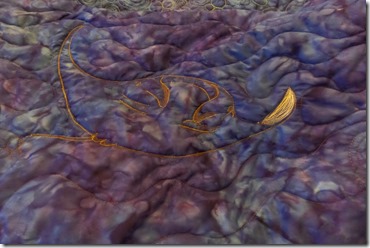 Last, but certainly not least, we can't forget our hungry shark (and bird!). A school of fish is in order, but they need not be fancy or anything. I don't believe our shark is that picky, do you?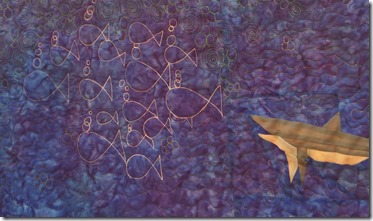 The top of the water always has fast, agitated movement, with the lower levels being more gentle and slow. I attempted to imitate this with the quilting. Near the top is the agitated bubbles and swirls, moving downwards to more gentle tides, with an occasional swirl of water. At the bottom, we have even more gentle movement, with the easy sway of the kelp.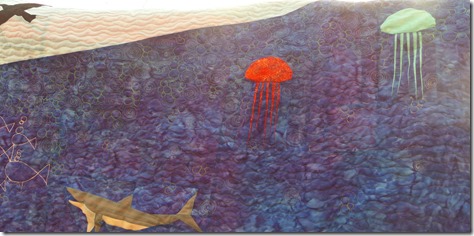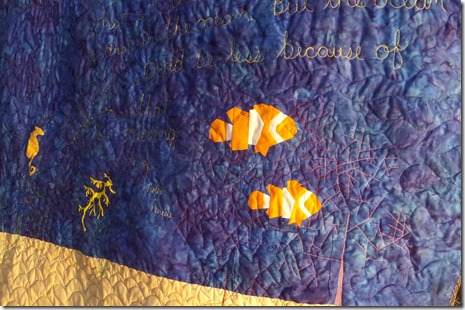 I asked my friend if there was any saying that she wanted me to incorporate into the quilt. The one she sent me was perfect and I quilted it right into the center of the quilt.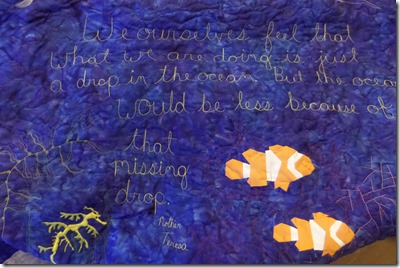 Here is the full view of the top.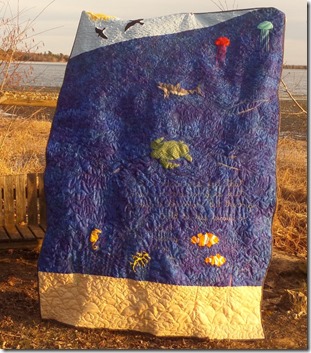 The back is pieced in a pleasing, yet simple way. I wanted the back to be very different from the top, to give my friend's son options as he gets older, for he may not always want an ocean theme quilt on his bed.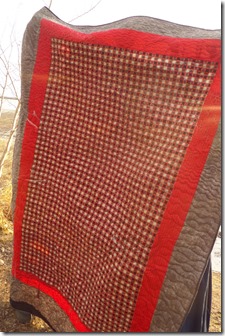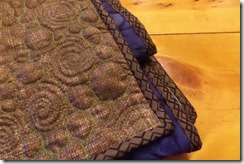 Quilt Stats:
Size: 72" x 98"
Design: by me
Quilted: by me
Quilt fabrics: the fabric for the water is Batik Dreamscape Mystic; the sky fabric is Sky; the backing is (center) Boxing Plaid, (skinny border) Intertwining Chevron crimson, ( the outer border is no longer carried); the sand is Mirage carmel; binding is Intertwining Chevron charcoal. All of these fabrics were bought from Connecting Threads.
All of the creatures and the sun were from my stash.