Two posts in one week. Wow! I'm on a roll!

(my almost-5 yr old daughter asked for a princess face. I figured why not?)
We are working on many things around here, for life is never dull or boring in this house. Here is a peak at some of the things that we're up to.
School:
We are studying about the Middle Ages in history and so we made our own castle. Out of sugar cubes. The children had a lot of fun putting this together. We used royal icing for he mortar (royal icing for a castle. Kind of fitting, eh?), blue frosting for the water in the mote and green sugar sprinkles for the grass in the courtyard.  Of course, what castle is complete without a few soldiers and horses? Legos to the rescue!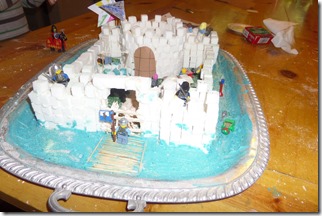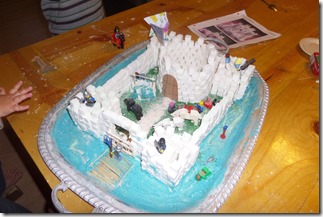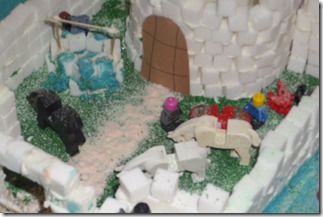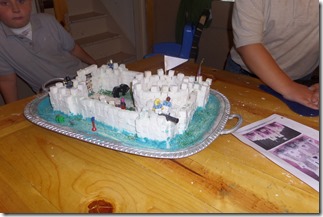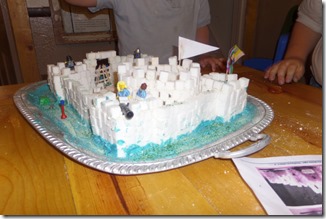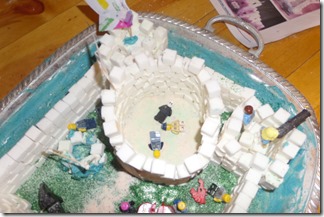 My quilting:
I have many projects going at the same time. Doesn't everyone?

I am finally getting to our Swoon quilt, which I started almost 3 years ago and has been ready to quilt for at least 6 months! It's a king sized quilt, so I'm just strait line quilting it.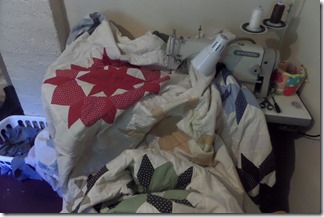 My boys just blow through their jeans like there's not tomorrow! Unfortunately, it's usually the knees that they leave in shreds, literally, yet the rest of the pants are just fine. I hate to throw them out, but I'm not willing to spend hours on patching them up either. So I decided to cut them up and make a picnic quilt out of them. Denim is very durable and I'll back it with 1 or 2 blankets that I already have, yet don't use.  It's slow going, for I have a lot of denim! I am doing it the "slab" method, a la Crazy Mom Quilts. The whit basket are the cut up pieces and the wicker basket are the pieces sewn together. (yes, I have a purple floor. My husband just about freaked when I came home with that color. Its called "eggplant" and I love it!)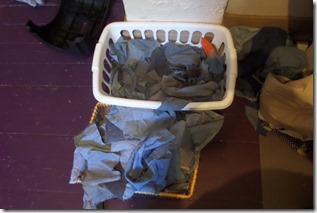 2015 is the self-imposed year that I'm making lap sized quilts for all of my 10 nieces and nephews, to be given to them on their birthdays. The patterns have been chosen (although I reserve the right to change my mind), most of the fabric has been decided upon, the top for the 1st one is finished (my 1st scrap quilt!), and the cutting for the 2nd has been done. I have a ways to go!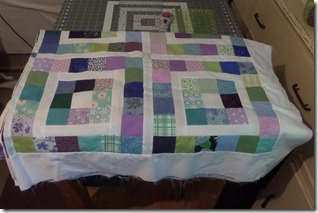 Catering:
I don't have any pictures, but we have been super busy! We've had 7 weddings this Summer, with our last one in October. We have had countless (or at least I'm not going to count them) business meetings/luncheons, as well as the increasing county meal. In fact, we are double booked every day next week! At least the weekends are free now….
See? I can blog about other things then just quilting!

I am linking up with WIP Wednesday, at Freshly Pieced.