I know I've been quite hidden these few weeks, but I was getting ready for the craft fair we had this last Saturday November, 17. It was the first of it's kind, here in Crandon, and I wasn't sure how it was going to go,. I didn't know how much product to make, so it was totally a "shot in the dark".
Unfortunately, that shot totally missed it's mark. I sold a whopping 2 items. One of them paid for the spot, so I took home $3. Yeah, that kind-a stings to say it, but it is what it is.
On the other hand, Adam did quite well with the catering stuff. He sold more granola, spices, and Mango Habanero hot sauce then he thought he would. Which is good, since that's the business that pays the bills!!

Here are some pictures from Saturday.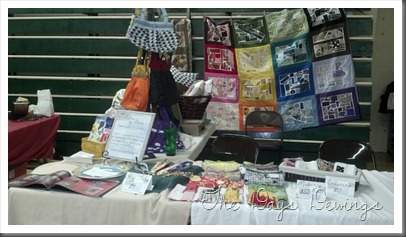 You can see my Bottled Raindbows quilt in the back, which was just for show. The 3 styles of purses are on the stand, with the (hidden) pillows behind it.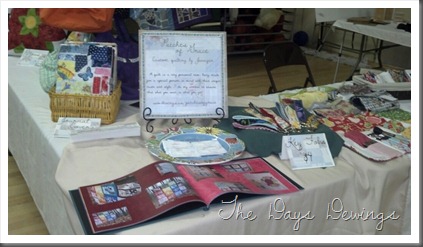 The coasters are there on the far right, in the basket, and the makeup rolls are next to that. The key fobs are on the green napkin and the journal covers are in the basket behind my sign and business cards. I had a photo book printed to show case the various quilts I have made.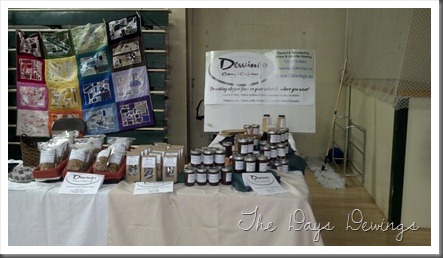 Next to me was Adam's booth (actually, we shared the same booth space). On the far left is the granola. We had 3 kinds for sale: Almond Crunch, Almond Crunch with Chocolate Almond, and Almond Crunch with sweetened Cranberries. Next to the granola in the little brown bags, are our nut butter cups. We had Cashew Chocolate, Peanut Chocolate, and Almond Chocolate.
In the jars at the corner are our Chocolate Nut butters: Cashew, Almond, Peanut, and Hazelnut. Behind the jars is the Mango Habanero hot sauce and Adam's special blend of seasoning's.
There is another craft fair Saturday December 1 that we will be attending. Why not? We have enough product!
Now that all those items have been made, perhaps now I can turn my attention to other things I've got waiting for me.
                         (These are the 2 that I've had made since February.)
Like our Swoon quilt that's been cut out since last January…. I actually did pull that thing out Saturday night (or was it Friday night?) and I have most of it pieced together.
Next up, I'll assemble the block…..